So you've decided you want to import you next car! Before you jump into searching the hundreds of thousands of cars at auction every week, there are a few things you will need to
know that will make like a whole lot easier.
Step 1: First things first, in order to effectively search the 'Japanese Auctions' and 'Statistics Sales' pages you will need to know the chassis ID of the particular model you are looking for. The
chassis ID for every car, along with detailed spec information, can be found under the 'Cars Catalogue' page.
Step 2: Once in the Cars Catalogue, find the Make and Model you are interested in, keeping in mind that some model names Japan differ from those here in New Zealand (eg. a Mazda 3 is called
a Mazda Axela in Japan).
Step 3: From there you will find a list of all the sub-models with their spec information, including the chassis ID in bold. Make a note of this chassis ID as you will need it when searching in Auctions and Sales Statistics.

The three-letter combination in front of the chassis ID is the car's emission code. Any three letter code means the car will comply with NZ standards, two letter codes will not comply (usually older models).
Clicking on each sub-model will bring up a full specs page with all the standard manufacturer features of that specific car.
Now that you have the chassis ID you can start searching the auctions and stats with ease!
Every car that goes to auction in Japan will have it's own auction sheet. Qualified inspectors at each auction house will fill out the sheets, providing all the vital information on the car, as well as a detailed report on it's condition. You will get an English translation of the auction sheet before any bids are confirmed, however we do require your max bid amount on the car BEFROE we do any translations.
In the meantime, to help you with your searches there are a few key things you can look out for on the on the auction sheets before you may like to place a bid.
Every car has an emissions code, which can be found as either a two or three letter code in front of the chassis ID on the auction sheet. It is required by law that all car imported in New Zealand for regular road use MUST have a three-letter emission code. This can be any three-letter combination.
Any car with a two-letter emissions code will not comply with New Zealand road standards and cannot be registered, although there are some exceptions.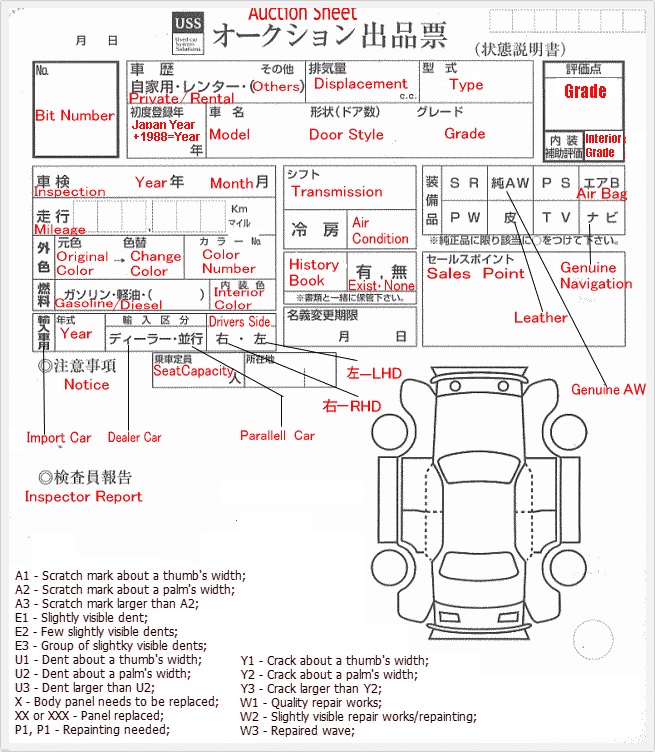 When every vehicle goes to auction in Japan, it will be inspected and be given a grade to indicate it's overall condition.
Vehicle Grading Bar
Grading is subjective and is expressed as an opinion of the auction house inspector. It will vary from auction to auction and should be used as a rough guide only.
-

+

Vehicle is in brand new, showroom condition with all original body parts. Usually only given to vehicles less than 3 years old and extremely low mileage.

-

+

Vehicle is in excellent condition. Maybe some small marks as shown on the auction sheet.

-

+

Vehicle in good condition, few scratches/dents due to normal wear as you would get with any normal vehicle.

-

+

Vehicle has scratches and or dents visible. The grade is usually given to a vehicle in average condition. Normally you would want to spend extra money on repair and touch up work.

-

+

Various scratches and dents. High chance of rust/corrosion and would require some work to pass compliance.

-

+

Badly corroded OR a non standard or modified car

-

+

Basically a pile of you know what. Or a very heavily modified car.

-

+

Vehicle has been in a minor accident. It h as been repaired to an acceptable standard.

-

+

A vehicle which has been in an accident where some parts have been repaired or replaced.
Usually a car's interior grade will be listed under the overall grade on the auction sheet.
As new condition. No faults
Very clean condition, has usual wear expected for year/mileage.
Clean but with one or two defects. Usually a cigarette burn or scratch on dash/trim
Dirty or smells of cigarette smoke. A lot of wear and some rips.
Any imperfections on the exterior are noted with their position on the net view of car, along with a legend showing their corresponding meaning. Here's what we have found in our 20+ years experience:
Anything noted with an A1, E1, E2, Y1 are extremely small/shallow and are pretty much invisible to the naked eye. Any scratches noted with an A2 are a bit more visible, but nothing to be too concerned about. They can usually be buffed out or require very minimal work to fix.
Any X, XX or XXX noted on the car could mean that it has been in an accident and had a panel replaced or painted. We would always get a physical inspection on the car to check for any hidden damage before we place any bids.
9 times out of 10 the information we get from the auction sheet is more than enough, however we also offer the ability to have cars physically inspected before we confirm the bid. We would go for inspections if we believe the car has rust and/or other damage, or if you want to check for any specific requirements that aren't otherwise listed in the auction sheet (ie. Sunroof, leather interior, etc). If you would like a physical inspection on a car, your max bid MUST be placed with us before 10am (NZ time) the day the car goes to auction.
We're sure these tips will help you with your search for your next import. If you are still unsure about anything, don't hesitate to give us a call and we will be happy to answer any questions.
The Statistic Sales page is a great way to get a good idea on what you could expect a car to sell for at auction. Not only does it provide data on all the cars that went through auction in the past 3 months, it consolidates it all into meaningful information to give you the best idea on how much you should be bidding on that next car coming up at auction.
To get the most accurate statistic results, make sure you've clicked the '3 months' option to the left of the search box. After choosing make and model, you will need to search by chassis number ID.

Click 'Consolidated statistics' (under the search button) to get an overview of all the historical data.